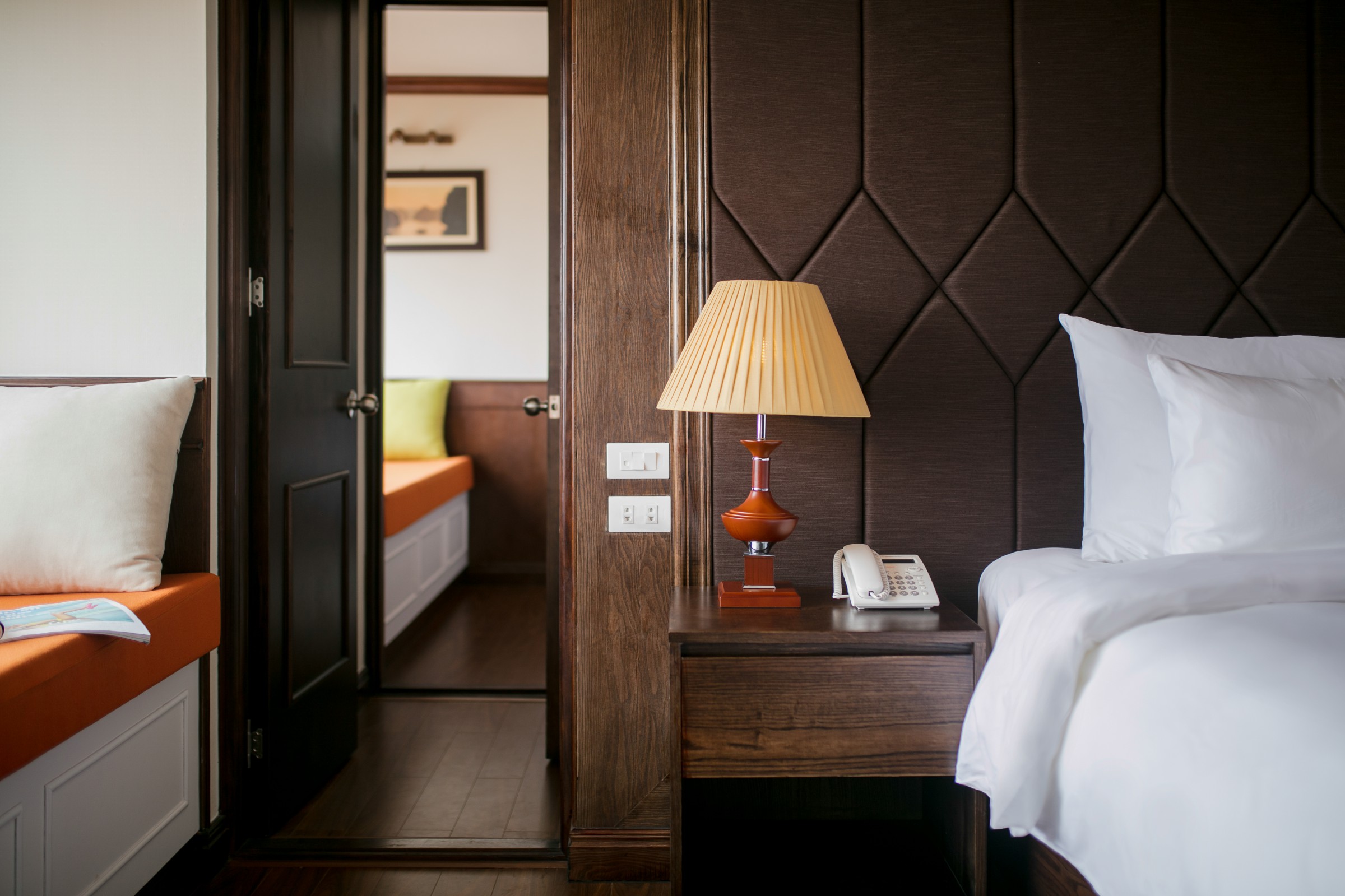 Heritage Journey – Hanoi & Halong Bay 2 Days / 1 Night
You will have an unforgettable trip with the 2 days/1 night package tour exploring the hidden charms of Hanoi Capital and Halong Bay organized by Mon Chéri Cruises.
The package includes:
2 days/1 night on the luxury Mon Chéri Cruises in Halong Bay
Sharing luxury limousine transfers (Hanoi – Haiphong – Hanoi)
Paloma Motorbike and Food Tour around Hanoi city
DAY 1: HANOI – HAI PHONG - HALONG BAY - LAN HA BAY
9:00 - 9:30: You are picked up from your hotel in Hanoi's Old Quarter and proceed by highway directly to the pier in Hai Phong city for the cruise (with the surcharge if required). 
12:00: We arrive at the office in Got pier, Cat Hai Village, Hai Phong city, where you will be welcomed by our crew.
12:30: Embark Mon Chéri Cruises. You will be served a welcome drink and provided with a cold towel. This will be followe
12:30: Embark Mon Chéri Cruises. You will be served a welcome drink and provided with a cold towel. This will be followed by a cruise briefing where you will also be given safety instructions before checking in to your cabin. We will set sail and you will have lunch in Mon Cheri's luxury restaurant while enjoying the beauty of the canals on our way to Halong Bay. 
15:30: We arrive at Light and Dark Cave, where you can do kayaking or bamboo boat rowed by local people. Then return to Mon Chéri Cruises, followed by swimming near the ship.
17:30: Return to Mon Chéri Cruises, where you can admire the magnificent sunset over the Gulf of Tonkin and enjoy a complimentary sunset party. 
18:30: Then take part in cooking demonstration to learn about our Vietnamese cuisine. 
You can also enjoy the massage service which is available onboard. (Please book directly with the Cruise Manager on the boat)
19:15: A great dining experience awaits you. 
20:45-0:00: After finishing dinner, you can enjoy the landscape of the bay at night up on the top deck, relax with romantic ballad music, enjoy drinks from the bar try your luck at squid fishing, watch a movie or relax in your room.
Overnight on board.
DAY 2: CAT BA ISLAND – HANOI
06:15: Wake up early to start your perfect day with Tai Chi class or watch the sunrise on the top deck. Enjoying a cup of coffee and tea is ideal choice. 
7:00 – 8:30: Buffet breakfast is served in the restaurant.
8:40: Visit Cat ba island.  You are taken by bus to visit the most beautiful stalagmite and stalactite cave, located in Cat Ba National Park.
10:30: Return the boat and check out the cabin. Then have brunch in restaurant while the boat sails back to pier. We settle the bill at the end of trip.
11:30: Disembark the boat and return to port.
12.15: Get on the D-car transfer and return to Hanoi (with the surcharge if required).
15:00: Arrive at Hanoi. End of the trip
Special note: Cruise itineraries and schedules are subject to change without pre notice depending of the weather and operating conditions.
18:00 – Meet the group and have a full safety briefing about the Tour in meeting point with Egg coffee/chocolate or soft drink/ fruits juice.
18:30 – Ride outside of the Old Quarter, where most tourists don't visit, to see the real local lifestyle
19:30– Tasting a range of Hanoi street food in many authentic Vietnamese restaurants with a wonderful variety of unlimited food to cater for every taste.
20:50 – See the nightly ceremony of the taking down of the flag outside the Ho Chi Minh mausoleum and then ride around the city, pass some of the most majestic, historical buildings including Long Bien bridge, West lake area, the railway house… Take a number of short stops to take photos and learn about the history of the site
22:00 – You will have the option for your Tour Guide to take you to any location in the Old Quarter or to your hotel. End of tour.
PROMOTION RATE: USD 325/person
Special note:
Cruise itineraries and schedules are subject to change without pre-notice depending of the weather and operating conditions.
Some outside activities would not be recommended for the elderly (above 70 years old), the handicapped, the kids and pregnant women.
Guests should wear sport shoes when go sightseeing the Trung Trang cave.
Rate inclusion
Rate exclusion

2 days/1 night in the luxury Ocean Suite with Balcony in Mon Chéri Cruises
Entrance fees as per program
All transfers as stated the tour program
English speaking tour guide on the cruise
Meals as indicated in the itinerary 
Motorbike City Tour in Hanoi
Taxes/ service charges

Single supplement cost USD 110
Surcharge for Special events: Christmas Eve (24 Dec) and New Year's Eve (31 Dec)
International flights to/from Vietnam
Hotels in Hanoi
Airport transfers 
Personal expenses
That which are not clearly stated in the inclusion
Xin chao, please kindly read these terms and conditions carefully. On booking online or signing our booking form when making reservations over the phone or by email, you are deemed to have read and accepted our Booking Conditions, and are accepting the terms of these conditions on behalf of all persons in the party.
These terms and conditions constitute an agreement with the Merchant. By entering the site you accept these terms and conditions. The terms and conditions are subject to change at any time, and it is your responsibility to check these terms and conditions regularly in case there are any changes.
1. Cruise rate
All prices for the cruise are generally per cabin. Our prices and fares are quoted in US dollars.
2. Payment to secure reservation 
Your reservation is confirmed once payment has been paid by credit card or via bank transfers and must be received by Mon Chéri Cruise Management. All confirmations are generally acknowledged by return e-mail within 2 working days. In case immediate confirmation is not possible, we will inform you of the booking status at the time of reservation.
Payment Upon Arrival:
Mon Cheri Cruise accept cash payment in US Dollars and Vietnam Dong upon arrival. Due to strict rules of banks in Vietnam regarding foreign currencies, only new clean notes of US Dollar issue from 2006 until now are accepted. Notes with red marks, dirty marks and issued before 2006 are not accepted because they are refused by banks and have no value.
Credit card payment (only Visa and Mater Card) is accepted and is subject to 3% extra for credit card fees .
3. Children and extra beds
• All children are welcome.
• One child under 5 years old is free of charge when using the existing bed and sharing meals with parents.  Limited to one child per booking for fee free service. If there is more than one child under 5, additional children will each be charged at 50% of the adult rate, using the existing bed and having their own meals. 
• Children from 5 years old until 11 years old are charged 50% of adult price as cruise policy, using existing bed and they are entitled to have separate meals.  
• Children from 12 years old are charged at adult price. 
Any type of extra bed or child's cot/crib is upon request and needs to be confirmed by the cruise management. 
Supplements are not calculated automatically in the total costs and will have to be paid for separately. 
4. Cancellation policy: Any cancellation will be charged as following:
a.Cancellation by guests:
Sharing – from 1 to 5 cabins:
More than 14 days before check-in: No cancellation charges
Less than 14 days before check in: Charge 100% of total rate
No-Show: charges 100% of total rate
Sharing from 5 to 10 cabins:
More than 30 days before check-in: No cancellation charge
From 30 days to 15 days before check-in: 25% of total rate
From 14 to 5 days prior to check-in: 50% of total rate
Less than 5 days prior to check-in: 100% of total rate
No-Show: 100% of total rate
b. Cancellation by Mon Chéri Cruises
We reserve the right to cancel your booking under some unavoidable circumstances like: weather conditions, wars, civil strife, industrial disputes, natural disasters, terrorism, or under orders from the Local Authority. Bad weather conditions will also lead to cancellations in order to guarantee your safety. 
The following policies will be applied for bad weather: 
If the cancellation is informed to guests prior to leaving Hanoi for Hai Phaong and the guests have not used any service:  100% refund.
If the cancellation is informed during the trip (guests have already used some services: eg transfer, lunch, day trip, hotel in Halong, etc): Only the actual fee of these services will be charged and we will refund the remaining amount.
If the cancellation is informed before 8:00 a.m and the trip is cut down from 3 days/2 nights to 2 days/1 night, the guests will be refunded the difference charged between the two packages as listed through their booking agent
If the cancellation is informed when our guests have already spent the 1st night and taken part in the 2nd day activities on the DAY CRUISE until 3:00-5:00pm, they will be charged 75% of the package for the 3 days 2 nights experience, and be refunded the 25%. 
Cancellation will ONLY be announced by the Hai Phong Local Port Authority and often at short notice. Therefore your understanding in these situations will be highly appreciated as these circumstances are entirely out of our control.
5. Refund of Unused services
No refund or exchange can be made in respect of accommodation, meals, sightseeing tours, transport or any other services which are included in the tour package but which is not utilized by the tour member.
6. Passengers' information and dietary requests
Clients are requested to submit all passenger details at least 24 hours prior to check-in of passengers, including (i) Full name, (ii) Date of birth, (iii) Gender, (iv) Nationality, (v) Passport number, (vi) Vietnam visa expiry date.
All dietary restrictions should be informed at least 48 hours prior to check-in to help us to serve the guests better. 
Charter, group rates or last minute deals are available. Please contact us for generous discounts. Best prices GUARANTEE.